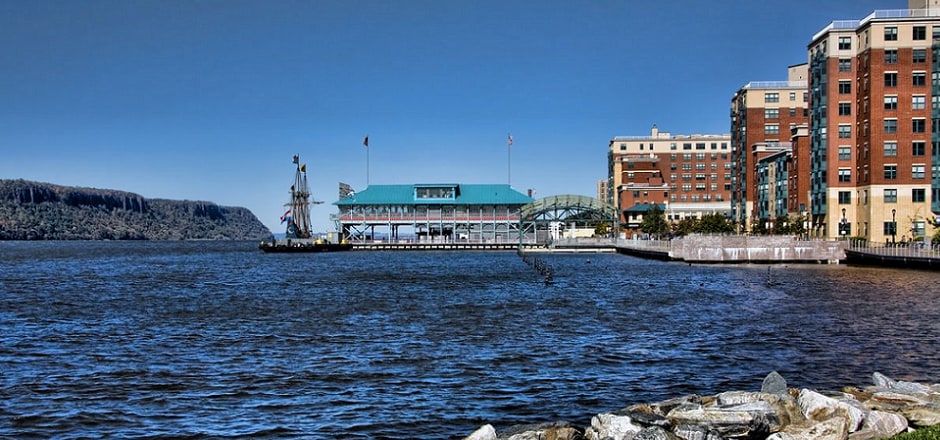 Yonkers Jaguar Dealer
If you are on the market for a new Jaguar, you're in the right place. Once you've taken advantage of the tools and resources available at our website to review and compare all Jaguar inventory on our lots, take the trip in to Jaguar White Plains to test how they perform. No matter if you are a potential first-time Jaguar owner or if you lease a new Jaguar every two years, our team is standing by, ready to assist you through the entire process. From selecting the Jaguar of your dreams to reviewing your finance options to scheduling routine service visits, we cover all bases. A Jaguar purchase is a celebratory occasion and one of the best places to do this is at
Xaviars X20
. Join
Iron Chef
winner and native Yonkers resident Peter X. Kelly at his flagship restaurant, where you will be greeted by views of the Tappan Zee and George Washington Bridges, behind three walls of glass in the restaurant on the pier. The food: French/Italian/Spanish influences with a splash of Japanese. Small plates and sushi sampling are also available at a communal table at the up-tempo
Dylan Lounge.
New & Pre-Owned Jaguar Models
Stop in for a glimpse of the Jaguar XF and see first-hand the most dynamic luxury sedan, with its striking contemporary style and exquisite craftsmanship. You can even arrange a test drive right here now at our website or do it in person when you arrive. Our team of sales professionals will gladly answer all your questions and help you make any arrangements you need to get you behind the wheel of the dream car that awaits you. The day of your visit, give yourself the rest of the day to play.
Sprain Lake Golf Course
- is a pleasant public golf course to visit and leave the daily stresses behind.
Saint Andrews Golf Club
, with its deep, storied history as one of the five founding members of the USGA, promises a sublime day on the golf course. Membership at this prestigsious clubhouse grants additional benefits like a learning center geared to keep golf alive and well for generations to come. 
Yonkers Area Jaguar Maintenance
Keep your Jaguar in good shape with regular maintenance at Jaguar White Plains. You will find our service center well stocked with original Jaguar parts handled by Jaguar-trained service technicians standing by, ready to answer questions related to the mechanics of your Jaguar. Set up regular routine service visits online with ease or call us. We cater to your hectic schedule and offer convenient time slots. Take a time-out when you go to Louie & Johnnies at the Yonkers Raceway, Texas de Brazil or Zuppa for that white tablecloth Italian dining experience in a charming atmosphere with old-century charm. 
Visit Jaguar White Plains
258 E. Main Street, Elmsford, NY 10523
 
Are you ready to get started? You're so close. Our team of dedicated Jaguar professionals is ready to help fast-track the process to get you into the Jaguar you deserve. From sales to finance to service, we can't wait to be of service to you. When you schedule your visit, take a break from it all and step out and over to
Untermyer Gardens
. Samuel Untermyer's estate is over 150 acres with flawless Hudson River views. After periods of neglect, it is in the process of being restored to its original 1920's glory. The original had fountains and columns imported from Italy with functioning greenhouses and the world's only living sundial. There really is no time like the present. Today really is a great day to plan your trip to Elmsford. Â